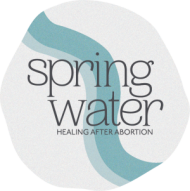 We're Here For You
Many women and men experience relief after an abortion, but many different feelings can emerge as time goes by. They can be healed and restored by bringing those broken places to the surface. 
Our Services
---
Support Groups
No matter where you are in your post-abortive healing journey, we are here to walk alongside you. You are not alone. Our support groups are designed to fit your specific needs, whether meeting virtually or in person. Join us whenever you feel ready. You are stronger than you know. Receive a free and confidential initial consultation today.
Counseling
Springwater is here to offer the tools you need to heal and hope again with our post-abortive counseling. It's cost-free and completely confidential. We have both individual and couples counseling available. Individual counseling may be right for you if you want more privacy and room to talk freely. Contact us to learn more.
Frequently Asked Questions
---